Overnight Pet Sitting Services
Reliable, Flexible and Mature In-Home Pet Care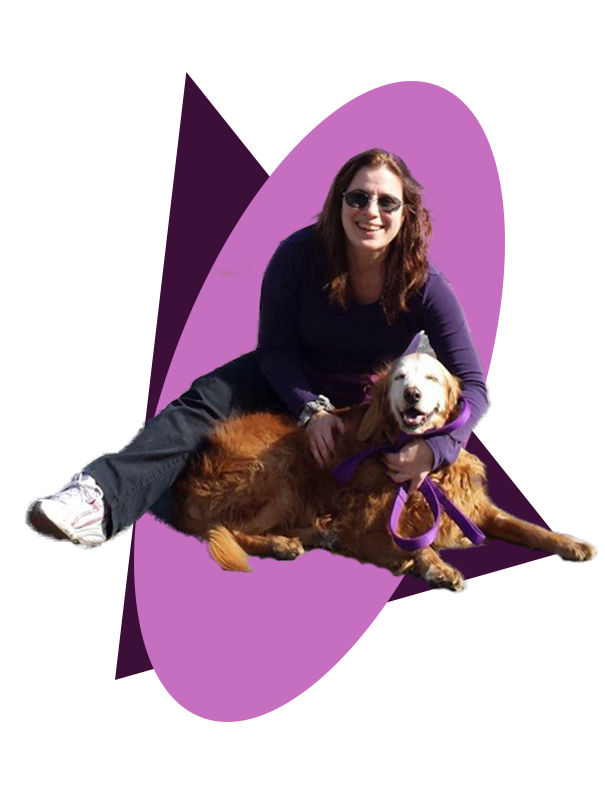 Advantages to you:
A kennel or other unfamiliar surrounding can be stressful for your pet(s): they may be exposed to illnesses, and there may be skirmishes with other pets that require veterinary care
Having your pet at home is more convenient/flexible for you: no scheduling, dropping off, and picking up
One household sitting at a time – personalized attention for ONLY your pet(s)!
Peace of mind: You meet/know who's going to be sitting your pet(s): no big firm sending out whomever, and if/ when /who will show up!
Your pet maintains their regular routine(s)
Your home stays "lived in" while you are gone
This is the reverse of a hotel; you pay Pauline an overnight rate to stay over and care for your pet. To quote a former client, "Pauline is the World's Greatest Houseguest!"
P.S. Goodnight primarily takes care of dogs and cats:
Owner, Pauline has over 20 years of experience and is trained in pet first aid and CPR
We provide food, medications, treats, walks, and play
Services, Packages and Pricing
Two meals and two walks, morning and evening. See the basic Package.
We can take care of all your furry friends, see below for more information.
Your pets will get the care they deserve, and the attention they need.
We are trained pet care specialists, let us know your pets special needs.
Each pet, owner, and situation is different.
The nightly rate is determined after an in-person meeting with you and your pet(s).
Payment is via cash, check, PayPal or Venmo.
Overnight, direct care for 1 dog Typically starting between 5 and 7 pm through between 7 and 9 am the next day (ask about rates outside of those times) Two meals (evening and morning) Two walks and a potty break Medications to food (no Charge) Take in items, e.g. newspapers, mail, packages, water house/deck plants.
I'm Interested
T

he nightly rate is determined after an in-person meeting with you and your pet(s).
One additional dog One cat (in addition to a dog) Additional walk for up to 2 dogs Eye Drops and/or Wash Holiday Care Special Medications of first aid category care (e.g., insulin shots, subcutaneous fluids, syringe via mouth) Pill Administration by hand Other Transportation (i.e. Vet or Other Visits) Watering or Care of Plants other than a few indoor Plants
Sign up
Puppies and Kittens Unspayed or Unneutered Pets Bathing and Brushing Vet Visits Other Transportation (i.e. Vet or Other Visits) Dog Parks Any Household Duties not directly related to animal care Special Training Commands Lengthy Food Preparation/special diets/additional meals Key Fee for additional Meet and Greets and key pick-up and return if not done or arranged during the regular meetings.
Contact Me About P.S. Goodnight
We Do Not Provide Care For:
Young dogs and puppies, as well as dogs or cats who have lived in isolation or those that are not well socialized, are prone stress, emotional turmoil or destructive habits when left with strangers. Because of this, we require a meeting and evaluation before we accept new clients.
Other Things We Do Not Do:
Landscaping, mowing, gardening, planting, snow plowing, snow shoveling (except as needed for safe walking/driving in and out of your residence).
Other Fees Include:
One night's deposit for first time customers, applied toward charges if the job occurs. This will be refunded if cancelled within 5 days. If less than 5 days, the deposit is forfeited unless another client books the same dates.
Pauline will sit for your pet(s) in the following areas. Ask about other locations.
North Seattle

North King County

Edmonds north to Everett

Snohomish to Lake Stevens

Bothell to Monroe

East Side: Kirkland, Bellevue & Redmond
Frequently Asked Questions
Click on the questions below to reveal the answer to our Frequently Asked Questions.
How did you get into the overnight pet-sitting business?

I was volunteering for Guiding Eyes for the Blind and working with different service dogs in-training. After completing one year of training and assessment by national service dogs trainers, puppy raisers asked me to sit for their dogs while they were on vacation. I declined, because I lived in a no-animals building and I had a full-time job. "No," they said," you have it wrong: you stay in our house and you replicate our schedule. You go to work during the day and sit with our dogs during mornings and evenings." That's how P.S. Goodnight was born.

What happens to the animals while you're at work?

Some clients have dog walkers come during the day. Others they have doggie doors for their pet(s) to go in and out. Due to the nature of my non-pet care work, I often work at home (your home) a few days per week. Schedules can be discussed during our meet and greet.

What about weekends or when you're working remotely?

That's discussed during our interview.

Why do you charge less than your competitors?

P.S. Goodnight's unique business model offers lower rates in exchange for flexibility in the sitting schedule. This is a win-win situation allowing for us to both spend more time with your pets and still have other work..

Do you have a standard pricing system for your services? If so, please share the details here.

I have a basic pricing system but am flexible and charges are based on each owners'/pets' needs and my own schedule. For Example: Rates for one dog begin at $50 per night but are more on certain holidays. More dogs/pets and services (special meds) are more per night) However, I often to not charge for visits to the dog park or special hiking outings unless specifically requested by the owner. This is discussed in the meet and greet.

What education and/or training do you have that relates to your work?

I trained service dogs for the blind and am trained in Pet First Aid. I have been an in-home pet sitter for more than 20 years. I travel to the owners' homes and live with their pets providing meals, exercises, medications (if needed), love, security and peace of mind. Since I only do overnight care, I am a housesitter as well as a pet sitter.

What is the process towards hiring you?

Text, or email me your interest (see form) Let us know what your needs are, including dates, and we respond to you about availability and next steps. Schedule a meeting with you and your pet(s) at your home and to review the particulars (maximum: one hour) Daily rate, particulars, and service period are established and, for new clients, one night's deposit is collected for confirmation. Otherwise, you can be bumped..

• A clean, quiet place to sleep
• Guests and/or family aren't staying there, too
• A decent Internet connection
• Safe, free off-street parking

What do you need from me?

• Pet(s) is/are up-to-date on vaccinations, including rabies
• Dogs need to be housebroken and cats need to use the litter box (I don't take outdoor cats)
• Dogs and cats should be trained and properly socialized (For dogs and some cats: not territorial, doesn't pull on leash, doesn't jump on people, not a counter-surfer, food stealer, bed hog)
• Knowledge if your pet(s) is/are spayed or neutered (if not, a different range of care is needed)
• Knowledge and information about pet(s) being microchipped
• For pets that go to public areas, proof of pet(s) license
• Emergency Contact information for Vets or other trusted people
• Food and medication care instructions

Do you leave my pets alone?

This is an overnight pet-sitting business: only those hours are guaranteed that I'll be there. Other hours needed beyond that are open to discussion during our meeting.

What are your COVID-19 protocols?

First, I am vaccinated. I wear a mask in all meetings, practice social distancing, wash my hands regularly. I clean my car in-between animals. I leave your house as clean as I found it.

Do you provide updates about how my pet(s) is/are doing?

If requested and reasonable, yes.

How do you transport my pet(s), if needed?

For the safety of the animal(s) and for safe operation of the motor vehicle, dogs are secured in the back seat with a leash or, at the owner's request, crated. I keep your pet(s) away from aggressive animals and maintain control/distance as needed.

What is your typical process for working with a new customer?

• I correspond via email/text and then on the phone/zoom.
• I require a minimum of one in-person meeting at your home with you and your pets.
• If dog walking is required, we will need to go on a sample walk at that time or in another visit before we begin care.
• Food and medication schedules need to be reviewed and demonstrated (if beyond the basic) before the trip.
• All animals need to be current on all registrations and shots.

What types of customers have you worked with?

Families, couples, single people, dogs of all sizes, cats, hamsters and fish.

Describe a recent event you are fond of.

A beautiful golden retriever who was a trained hiking dog (thanks to her owner) once saved my life on a muddy mountain trail where my hiking group was no where in sight.

What advice would you give a customer looking to hire a pro in your area of expertise?

Always check references and ask for details of their previous pet care practices.

What questions and information do I need to consider before hiring P.S. Goodnight?

You are hiring an experienced, trained professional not a neighbor, teen, relative or friend. My competitive rates reflect my overnight care specialty which means that I will not be with your pet (s) 24/7 but will most likely be with them longer than those who have other pet clients. I do often have other (writing) work which in non-COVID times may take me out of the home for a few weekdays (or parts thereof). Otherwise, I am working at your home and am with your pets as much as possible.
• Do they have a reliable Internet connection?
• Do they have a safe place for the pet sitter to park their vehicle?
• Do they have a clean, comfortable area for the pet sitter to sleep?
• Do others (relatives, friends, housecleaners, gardeners, repair people) have keys/access to the home?
Many times, I have witnessed how different animals, mostly dogs, react to Pauline, not all that are in her care. It's uncanny how animals migrate to her instead of to others who are vying for interacting with them. Almost instantly, she's on a "best friend" basis of others' pets that she's never previously met. I've also seen where a pet who growls at me does the opposite to her. It's as if she's a "dog whisperer"!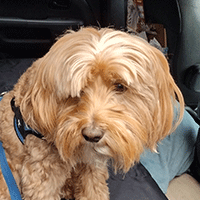 "I found Pauline through posting the need for a dog sitter on Craigslist. I had local dog walkers, but I needed someone to be able to stay overnight in my home while I was away. My dogs are more important to me than anything, so it was critical to me that I found the right person. I could not have asked for anyone better than Pauline. She was the right 'fit' from the moment she came to meet my gang. I have 5 (yes 5) dogs and a rabbit so it's not always an easy crew to manage. Pauline was so patient with everyone's 'quirks'. My dogs were so happy to see her. She was always available and never showed any frustration if I have to cancel. My house was probably cleaner than the way I left it. I am very disappointed that Pauline has moved away. But my loss is Seattle's gain."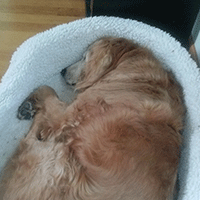 "Pauline Stieff and I have known each other for more than 10 years. During that time, I asked her to stay in my home with my aging dog and cat, both of which had a history of medical problems. Even though Pauline and I were friends, she took the pet sitting job seriously, interviewing me prior to my trip as if we were strangers, in order to learn as much as she could about my pets. Pauline's questions were thorough, and because of that, she knew my pets' habits, and what to look for if they were becoming ill. She also learned about my house, its unusual heating system, how things worked, and whom to call in an emergency.I appreciated her professionalism, and I could tell by my pets' reactions when they saw Pauline after my trip that they had been very well treated. I would not hesitate to recommend Pauline as a pet sitter and house sitter, and I would have hired her more often if our schedules had allowed it.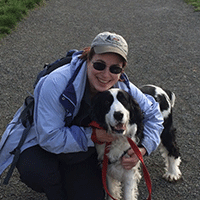 "Pauline cared for our previous dog, Zeke for over four years as well as our current young dog, Missy–both large breed dogs. She is honest, thorough and communicative and always leaves our home clean. She is trustworthy and truly cares about the dogs, their owners and homes.Zeke adored Pauline. I entrusted my new puppy, Missy, with Pauline for a week right after I adopted her. Pauline went above and beyond with her and helped her to settle into her new home and routine."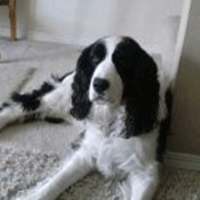 Pauline is 100% reliable, trustworthy and responsible. Our pets were always fine with her, she always let us know if there was anything going on that might concern us, and she sent us regular email updates. We were always comfortable with her taking care of our house. We recommended her to friends.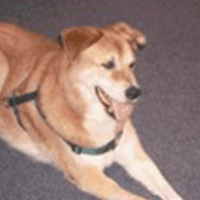 We have used Pauline as a dog sitter for the last decade…Dozens of times over the years and she continues to frequently sit with our dogs.We have labs and she has cared for our first set of two and is now sitting for our second set and even took on caring for our most recent lab as a rambunctious puppy. She is great with the dogs- we come home and the house is as clean as when we left and we have happy and content dogs. She has sat with them for long weekends and week-long vacations and everything in between. She shows up on time every time and is easy to coordinate with if we get delayed or travel plans change. She has cared for our dogs and given them medicine when needed. She keeps in contact with us throughout our travels. She'll send pics or updates as needed. Once our lab got a cut on her paw playing at the dog park and she called right away to troubleshoot and administer first aid for us. She even made a special trip to say goodbye to our last lab before we had to put her down with cancer.